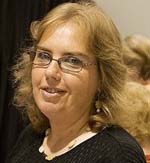 Joan is a pastelist and an oil painter who loves to paint landscapes and pet portraits. She was born in beautiful Point Pleasant, New Jersey. As a child she always loved to draw and started with art classes at an early age. She majored in art in High School and went on to study Visual Communications at Ocean County College in Toms River, New Jersey. She also attended Brick Computer Science Institute in Brick, New Jersey, and graduated from their Graphic Design program in 1997.

In 2005 Joan changed her focus from Commercial Art to Fine Art, starting in oil painting and then discovering and falling in love with pastels. She loves to paint the magnificent beauty of nature; one of the places God is most evident in this world, as well as pet portraits.
Joan currently lives and paints on the Emerald coast in NW Florida with her faithful dog Finnie and two tempermental cats.